Opening Times
Today
Sun:
10:00 - 18:00
Mon:
09:00 - 18:30
Tue:
09:00 - 18:30
Wed:
09:00 - 18:30
Thu:
09:00 - 19:00
Fri:
09:00 - 19:00
Sat:
09:00 - 19:00
Open 364 days a year, with our one day off being Christmas Day!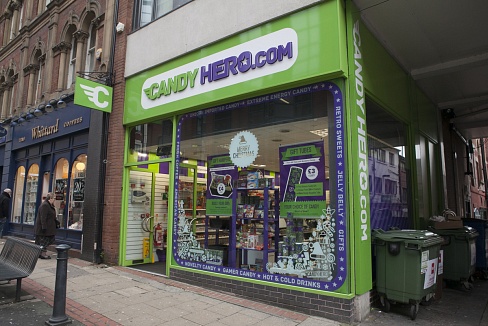 Click & Collect
Product Sampling
Loyalty Scheme
Wheelchair Access
Hot Drinks
Jelly Belly Pic n Mix
Gift Wrapping
Gift Cards
1,500+ unique items in stock in store today. Spoilt for choice? Start out with these deliciously discounted items.
Rare candy from around the World in the heart of Leeds city centre.
Candy Hero's high street adventure all began here in Leeds, in October 2012.
You can find the majority of our 3000 goodies packed into our Leeds store plus some hot & fresh extras. We have an extensive selection of hot drinks including fresh Casa Espresso coffee, luxurious Teapigs tea, and over 10 flavours of heavenly Whittard hot chocolate. You can also grab yourself a freshly toasted pop tart to go!
Whilst in store don't forget to check out our weekly star buys, these are exclusively for sale in store & can sell out fast with anything up to 75% off the product's RRP.
Come anytime on a Saturday to take part in our popular sampling. You will get a free taste of some rare and unique candy from around the World. Dried insects and vomit flavoured Jelly Belly beans have both featured on our sampling menu, alongside the more palatable Reese's Peanut Butter Cups & Crunchy Cheetos!
Meet the

Candy Superheroes of Leeds
Samphony

Mini Nerd

Fisherman Fenn

Junior Mint

Big Red

Terrific Turtle

Rainbow Nerd

Gnasher Weirds