Opening Times
Today
Sun:
10:00 - 18:00
Mon:
09:00 - 18:30
Tue:
09:00 - 18:30
Wed:
09:00 - 18:30
Thu:
09:00 - 19:00
Fri:
09:00 - 19:00
Sat:
09:00 - 19:00
Open 364 days a year, with our one day off being Christmas Day!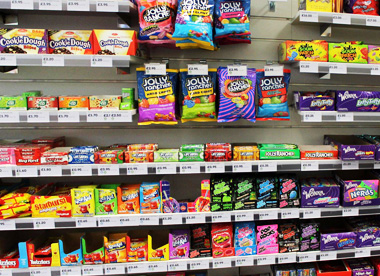 Click & Collect
Product Sampling
Loyalty Scheme
Wheelchair Access
Hot Drinks
Jelly Belly Pic n Mix
Gift Wrapping
Gift Cards
1,200+ unique items in stock in store today. Spoilt for choice? Start out with these deliciously discounted items.
Bringing the biggest candy selection since 2009
Meet the

Candy Superheroes of Leeds
Rainbow Nerd

Froot Loop

Georgie

Flo Pop

Midget Gem