BIG Changes at Candy Hero
We have important updates about Candy Hero and the superhero services we continue to offer.
We would first like to thank you for your loyalty and support. We started Candy Hero 10 years ago with a mission to organise USA candy to be delivered direct to your door. Things have changed a lot, and we have transformed into a successful wholesale supplier, importing shipping containers packed full of candy on a weekly basis.

We have juggled with the conflicts of interest when selling to both retail and wholesale customers. Retail stores are our customers, but also our direct competition. Since we love to supply great stores and great people, we have decided to make some big changes.

We will now begin to transform our website into a bulk shopping experience, where products are sold by the case, at lower prices than we currently offer. Single pieces of candy, chocolate bars, and cans of drinks will not be available in the new scheme.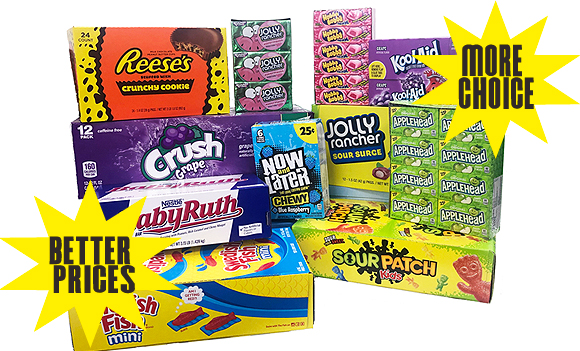 20% off singles & lower bulk prices
To make a win-win situation from this transformation, from the 6th November we are offering 20% off all singles as we aim to clear singles from our warehouse. We have also applied lower bulk prices to the website.
Benefits of these changes
Sale on all single units now on.
Larger range of products available.
Lower priced bulk packs available right now.
Great for gifts, parties, weddings, and events.
Exact expiry dates shown online.
New & exciting bulk packs to launch in 2020.
Mega popular Mystery Boxes and Mystery Tubes still available.